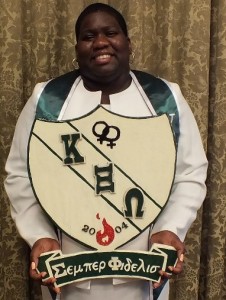 As I think about our Sorority, I'd like to say it's an honor to have the opportunity to serve as your President. I'm grateful to those Executive Council members who have worked and devoted personal resources to lend to the vision that makes Kappa Xi Omega the strong, successful organization it is today.
I invite you to use our website to learn more about Kappa Xi Omega including our history, current and upcoming community and public events. I encourage you to let our website serve as a window into our future, but also as a resource that provides an intimate view of how we passionately serve the communities in throughout the US and abroad.
As an award winning Sorority, we are leaders in the community. We pride ourselves on providing interactive yet relevant initiatives for youth between the ages of 11-18 and for adults. Through our continuous programming, Kappa Xi Omega packs a powerful punch through its implementation of distinct programming.
We appreciate you and ask that you support our endeavors as we continue to SERVE, ENHANCE, and LEAD in the community.
J. Byrd, MS