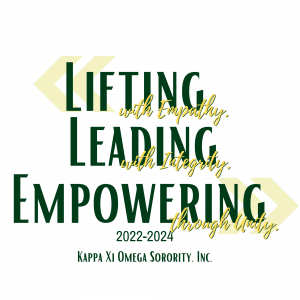 With each new National Executive Board term comes a renewed sorority focus. We are excited about our 2022-2024 focus. Together, Kappa Xi Omega's members will work to demonstrate, in both tangible and intangible ways, the founding principles of our sorority – empathy, fidelity, integrity, leadership, patience, understanding and unity. This goal will be reached through the implementation of sorority programming directly connected to one of our core values. We are excited to introduce members and non-members to new activities and initiatives over the next two years.
The desired outcomes for 2022-2024 are:
A sisterhood with a strong ability to apply leadership skills within any position, internally and externally;
A sisterhood that maintains strong sisterly relations;
A sisterhood with a clear understanding of each members' roles, responsibilities, and expectations for growth; and
A sisterhood with active members throughout the United States.